Data Cabling – Toronto Cabling Solutions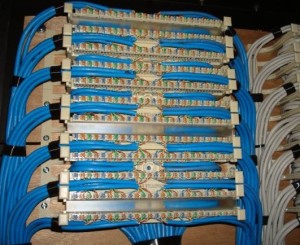 Toronto Cabling Solutions specializes in running Cat5e and Cat6 data cables. Our network cabling team, can run, fish, terminate, and signal test all types of data cables. We can run cables in warehouse, commercial space, and residential home offices. At Toronto Cabling Solutions we pride ourselves with planning ahead and meeting deadlines. Data Cabling is about knowing the space, knowing client needs, and planning accordingly. Our team of cabling technicians can provide the IT background as well as the consultation needed to go ahead with a project.
Steps in planning a solid Data Cabling project:
Measure the space.
Find out if there is a ware house or if all cable is run in commercial space with tile ceilings.
Find out if there are any concrete walls between IT Room (or closet) and end user locations.
Determine the type of jacks needed (cubicle supports jacks or jacks should be on walls).
Find out bandwidth consumption and note if Cat5e or Cat6 is needed.
Account for cable drops for Printers and Wireless Access Points.
Account for a commercial Access Point system and request quote for that.
If having VoIP, run two separate cables to each user stations for best performance (one for VoIP, one for Data)
If moving offices request for a VoIP system quote to save on costs rather than moving dying system to new location. This applies even if not moving as cost savings will pay for new system install so why not have a full-featured new digital system?!
Determine if any wall-mounts or TV HDMI cabling or other Data Cables might be needed.
Add at least 30% more cable to your setup to account for future expansions. This will lower your costs in the long run.
Toronto Cabling Solutions provides a template and creates a check-list for each user at survey time which can provide you with the opportunity to identify the best setup your business. At end of job our network cabling specialists provide you with labeled jacks and a map of jack locations. This map can be very useful when you plug and play new network devices to your setup. Please contact us through our contact form for a FREE survey or Quote.
Request a Quote!