Audio Equipment Installation – Toronto Cabling Solutions
Whether you're an audiophile, or need a professional music studio set up, or just want to enjoy the quality of sound the way it was meant to be listened, you should know that there is more to sound than just getting the right speakers and amplifier. In an area like audio equipment cabling, every tiny detail can make a difference in the final product.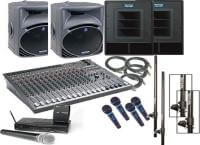 Toronto Cabling Solutions provides installation of audio equipment for various needs. Our team is experienced in all kinds of audio systems installations, including music studio, home theater, AMP installs and consumer audiophile home setups. Our technicians have the experience and talent for getting the most out of any audio system installation. We know and take care of all the details that can matter when setting up audio equipment.
Call us, and we'll get you a team of certified technicians to set up your studio or home environment, and make sure you are getting the most out of your audio setup.
Request a Quote!